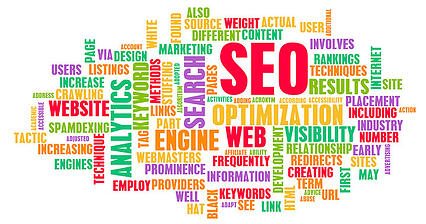 Oh, the Google website crawl! Some of us live for it, some of us live in fear of it – no matter which side of the fence you're on, Google search is one of the most important sources of your website's traffic. And one of the key ways to please the ever-present Google bot is to use great on-page SEO.
(**Note: These aren't tips for overnight success with SEO. In fact, thorough SEO is a long-term project that relies on lots of quality content development and link building. But you can still expect to enhance individual page performance by following these guidelines.)
Start with Your Keywords
Always keep a list of long-tail keywords to help you optimize your pages. What is a long-tail keyword? Something like "inbound marketing agency silicon valley" as opposed to just "inbound marketing." A long-tail keyword is more specific to your business and easier to rank for than shorter, broader terms.
Using long-tail keywords in the right places throughout your website increases page rank which can ultimately lead to better traffic numbers and more visitors. Once you have your list of keywords, follow these key on-page SEO techniques:
1) Create Effective Page Titles
The first place you want to be sure to include keywords is in your page titles. These show up at the top of your browser window and on tabs:

You will also find page titles on the search engine results page (SERP), which is why it's important to keep titles below 50-60 characters so they show up fully in results:

A great page title will impress search engines by its relevance to common search terms. It will also attract human visitors with eye-catching solutions to their problems.
2) Pay Close Attention to H1 Tags
Also include keywords in H1 tags (your primary header), but make sure your heading flows smoothly without juxtaposing unnatural keywords. Shoot for the fine balance between pleasing the Google bot and writing content that's easy on human eyes.
For instance, "Great Internet Marketing Solutions" might sound a little cliche, whereas "Learn the Internet Marketing Solutions that Drive Real Results" uses the same long tail keyword with a bit more flare. Use action verbs to grab people's attention and aim for somewhere fewer than 70 characters to please searchers and search engines alike.
3) Optimize Those URLs
URLs are essential to page rank, so use keywords carefully and try to be as succinct as possible. You want your file path to indicate what this page is about and you want to use the keywords that sum it up well.

4) Include Image Alt Text
Finally, you can get your images involved in SEO by making them readable for search engines. To do this, edit the images' alt text—basically a description of what's going on in the image (also another great place to sneak in some keywords). Just a few descriptive words help Google to understand what's going on in a photo, like "search engine optimization word cloud" for the feature image attached to this post.
Some Final Words
So now you know how to optimize your website—sort of. Just keep in mind that these are only guidelines to enhance already-great content. Without great content, you will struggle to generate repeat visits and you might not ever establish credibility as a reliable information source—let's just hope that doesn't happen. In the end, helpful, informative content is what search engines and people love to see; it's the life-blood of digital marketing.