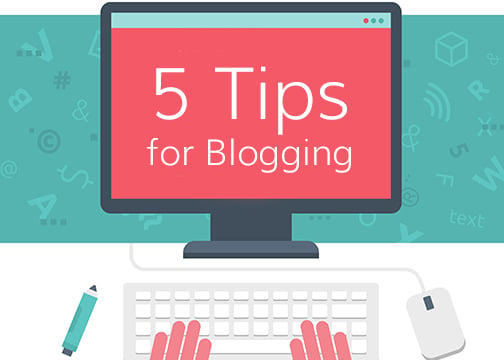 You may be wondering what it takes to create a killer website. How do you turn your online storefront into a marketing machine that gets results? What's the secret to attracting visitors to your website where they can discover who you are and how you can solve their problems?
One of the easiest ways to generate traffic is by creating lots of industry related content with a blog. The more you post, the more traffic you'll get, provided you do it the right way. Follow these 5 blogging tips to attract more visitors to your website and grow your online presence.
5 Tips for Your Business Blog
1) Pay attention to titles
You don't want this to be an afterthought. Your blog title is the gateway to your business. It's what appears in search results, and it may be the only thing someone sees before deciding whether or not they should check you out.
Think about the answers your ideal customer would search for related to your industry, and craft your title around those thoughts. Using keywords and clever (but concise) wording can make your content stand out from thousands of competing knowledge resources.
Choosing a compelling title may be the difference it takes to keep from being overlooked. It serves one purpose: to get people to click through and visit your website. Make it enticing!
2) Target industry buzzwords
Keywords are a fundamental aspect of search engine optimization (SEO), and having a good keyword strategy can be key to getting found online.
What are the key terms your target buyer would use to research information on your product or service? These are the words and phrases you should be sure to include in your posts.
Try not to overdo it with repetition, and whatever you do, don't make it look forced. But do everything you can to use the exact terminology that your ideal customers would frame their searches around. Build your content around these ideas and make it interesting.
Be intentional about adding keywords, but don't spend all your time on that one aspect. Your priority is making content that people want to consume, not just content that search engines love. There are a few basic principles of optimizing your webpage for Google which you ought to follow, but try to focus on producing content that your future customers will enjoy (and maybe even want to share).
3) Publish lots of great content
Don't hold back. The amount of quality content you publish is directly related to the amount of traffic your website will get. Having a higher number of indexed pages builds your website's authority—which leads to a higher ranking in search results. The more pages you publish, the more visitors you'll attract.
Sharing interesting and timely pieces of information is what leads to backlinks, the indisputable proof of your website's importance (in the eyes of most search engines). Backlinks are external links to your domain, and act like votes for your website popularity. The more (and higher authority) pages that you have linking to your post, the more credible it is.
This is a form of "social proof" that tells search engines your content is more than just spam, and that it contributes information that may be useful for answering real user queries. But it's not just about satisfying Google's web-crawlers.
Focus on developing relevant and comprehensive content geared towards your industry and you will quickly become a go-to source for trusted information. It's much easier to convert prospects when they already have a high regard for your expertise.
Show you have an extensive amount of knowledge on your field by posting loads of unique content on a regular basis. Two blogs per week is a great minimum goal for building your library and keeping your audience engaged.
4) Always include an image
A good cover image is one of those features that can add value to a blog by enhancing the user experience. Often times what is at the top of a post is what convinces people whether or not to keep reading, and powerful images can sometimes do the trick.
Subscribe to a stock photo vendor like iStockphoto or Fotolia (two sources Interamark has frequented over the years) and try to keep things unique. We usually try to add our own flare to images with Photoshop so they stand out from the corporate, impersonal stock photography most users encounter everyday. As your audience grows, your photo editing can even become a hallmark of your brand.
Don't forget to add keywords to your photos' alt-text in order to help search engines understand them. That way, even the photos on your page can help you get found online.
5) Focus on readability
Business blog writing is an art form. The way people consume information has changed drastically online. Users need to be fed bite-sized chunks and they usually don't spend a lot of time trying to comprehend complex writing styles.
In order to engage audiences you need to be able to write in a concise, uncomplicated manner and keep a positive, conversational tone. After writing your first draft, it helps to read through your piece out loud, listening for awkward sentence constructions. Then after you fix those, read every sentence and try to say the same thing using less words.
Try to make every word count. Make every word serve a purpose. The goal of your content should be to eliminate marketing "fluff" and provide unique, relevant content. This means the length of your posts should be determined by having something interesting to say, not your ability to spin nonsense into clever sounding phrases.
It helps to use the Flesch-Kincaid reading scores to determine how "readable" your post will be. These tools measure word length and sentence length to give you an objective reference point for reading ease and grade level. Use these tools as an initial checkpoint, but continue to refine your blog until it's both simple and captivating.
How to Start a Successful Blog
The first step to building a dynamite blog is to brainstorm ideas and plan ahead. Try to come up with several outlines for blog topics your ideal buyer will find interesting, and then get cracking! It's that easy.
Once you establish momentum you just have to keep it rolling. Aim for 2 blogs per week (or eight per month) and in 6-12 months you'll likely begin to see the needle move in terms of overall traffic.
Remember that it takes time to build from scratch, but once you get moving, it's only a matter of time before you'll start to see real results. If you don't have the time to write for yourself, hire an outside contractor or look into a full services marketing agency like Interamark. There's plenty of knowledge to be shared on your industry. Do what it takes to make sure you're the one telling the story.