Form a More Perfect Union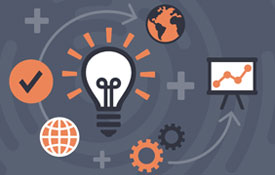 Once you've committed to adding inbound techniques to your outbound collateral, we recommend that you address issues unique to the dual approach right from the beginning. In the planning phase of developing a new campaign, check with your digital group to make sure your concept closely aligns with their content marketing strategy. This is certain to increase the ROI on what you produce.
Read More Tips for Using Buyer Personas with Outbound Collateral
Apply with Care
When applying inbound to outbound collateral you can increase its power by matching your outbound collateral with each stage of the buyer's journey. Create a content marketing strategy that is directed to your prospect at each point in his decision making process. This can initially be broken down into three major categories and refined in accordance with your buyer profile or buyer persona. The three stages are:
Awareness - the point where buyer identifies her need, problem and/or pain.
Consideration - the stage when the prospect looks to have his needs met, her problem solved or his pain alleviated.
Decision - the prospect compares the value of different solutions that have been offered and decides which is the best for her situation.
Read More Create Content with Chops - Using Inbound for Traditional Collateral
Share and Share Alike
When you've completed your campaign, share your marketing materials with your inbound marketing group. They will appreciate the care you've taken to match the collateral with the buyer's journey. As your campaigns expand across all the different stages of the buyer's journey, they will come to view your work as welcome additions to their library.
Integrating the planning of your content marketing strategy with others within your enterprise will enhance the efforts of every contributing team. For more information please feel free to contact us.