The Sky's the Limit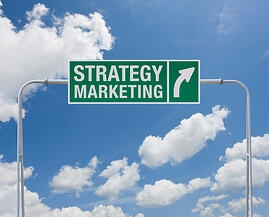 Chances are, if you are reading this blog you're a recognized pro in an enterprise marketing department. No question about it - you are good at what you do! Even so, we'd like to ask you a simple but potentially game changing question. Has it occurred to you lately that there's a way to transform your traditional collateral and make it even more effective? Has anyone approached you about incorporating inbound methods into your daily routine? Well we'd like to share something we've discovered that has worked for us and can work for you too. We have found that adding inbound marketing techniques to outbound collateral can greatly increase your results - ROI that can be quantitatively defined and measured. When inbound and outbound are combined the sky's the limit.
Applying Inbound to Outbound Presentations
Professional powerpoint presentations can be made more interesting with great powerpoint designers and engaging imagery. Read More Avoiding Death by Powerpoint
By applying inbound techniques you can also make your presentations work harder and generate additional leads. We recommend:
Incorporating long tail key words - using strategic search engine optimization (SEO) in your powerpoint can only add power to your piece. Highly motivated leads, many already through the first stages of their buyer's journey, will now have another pathway to your door. See Adopting Inbound Tactics: Keywords in Marketing Collateral

Basing the presentation on "buyer personas" - deliverables based on buyer personas further define your ideal customer, making it more likely that buyers will be attracted to your content and will find you.

Gating the presentation - gating serves two important purposes. First it provides you with key information about potential leads. The barrier also tends to sort out leads that either have not reached the appropriate stage of their buyer's journey or are simply not motivated to learn more about your client's product or service, leaving you with a quality lead generation list that can then be segmented and refined.

Referencing related materials - powerpoint presentations can provide a great vehicle for showcasing related collateral that you've already produced or have in the works. Pointing to related blogs is a particularly effective way of directing potential leads to you.

Transforming powerpoints into PowerPitch videos - leveraging existing powerpoints into a more dynamic format, builds on information you've already gathered and expands it's reach beyond your current audience. PowerPitch is a proven, proprietary product offered exclusively by Interamark. Perfect for gating, you can use PowerPitch as another way to garner information for lead nurturing campaigns.