Your agency project/account manager strives to be a trusted partner.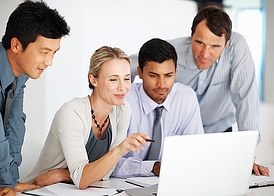 Your project manager's goal is to provide the most effective marketing collateral at the best value to you. So don't keep them in the dark. Reach out, even on the small things, so that they are in step with the aspirations of your campaign, and the needs of your customers. It's your agency counterpart's job to know your product inside and out.
Your agency PM is not merely an execution person.
Giving your PM a more inclusive role in campaign planning creates more strategic deliverables. Through experience on a variety of projects, your agency counterpart has ideas that you may not have thought of, and can, in turn, provide insight as to what has worked for similar partners. Take the time to include your PM in the campaign vision.
Project management is their forte.
Your agency partner thinks of himself or herself as the CEO of your individual project. They know how to juggle multiple projects, personalities, review teams, and timelines. Take advantage of these strengths, and let your PM take the lead on coordinating as much as possible, so that you can focus on the overall campaign, instead of doing the dirty work yourself. Chances are the project will run more smoothly and timelines will be met, if not exceeded.
Your agency PM knows "design speak."
Instead of giving feedback on the minutiae, let your PM translate your high-level needs to the design team for the most effective creative. You'll be pleasantly surprised what your agency team creates for you!
Cost, budget, overage…
Your PM knows how to contain review cycles, and can be a powerful tool in gathering information in a holistic way. Often times a project can spiral out of control as reviewers are added – let your PM wrangle all the necessary info before a project goes back into production round in order to keep costs contained. Get the most bang for your buck.